Spring
Highlights
Our next topic will focus on Anxiety and Stress
Caritas Gala was a wonderful success
We've updated our Understanding Diabetes section on our website
1st Quarter Winners
FutureHealth attended the Southern College Health Association Conference in beautiful Orlando, FL


Bay Path Women's Conference

Feeling Anxious
You are not alone! FutureHealth is excited to announce that our next topic is on Anxiety and Stress something we can all relate to, right We've started the process and will begin filming soon, so watch out for updates on our latest project. Do you have any tips or tricks for dealing with stress or anxiety? We would love to hear from you. Email us and we will share your advice on our social media pages. Let's help one another out.

Mercy Behavioral Health Care Gala
On March 11, 2017, Mercy Behavioral Health Care hosted their first annual Caritas Gala in Springfield, MA. Lots of people were in attendance including the FutureHealth team! We all had a great time for a great cause. The gala raised money to support Mercy Behavioral Health's addiction treatment facilities.

Stigma and the Opioid Crisis
By reducing the stigma of addiction, we can move forward with treating opioid use disorder as a disease. This will help encourage people who struggle with opioid use disorder to seek recovery treatment. Even with the distribution of Narcan at local pharmacies, overdoses caused by prescription and recreational opioids are still far too common.

What to Buy Our Documentaries
Did you know that you can buy our documentaries online? Our documentary topics include alcohol use disorder, the opioid crisis, depression, eating disorders, and even diabetes. Our Understanding Personal Safety documentary is great for first time college students. Our videos are great for families, friends, and educational purposes. If you would like to purchase our documentaries please visit www.fhnow.com toget yours today! And as an added membership benefit, we're taking 10% off your total purchase!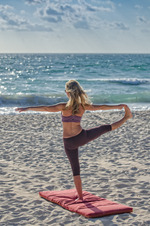 Exercise!
Spring is here and the weather is finally getting better! It's time to get outside and exercise: jog on a trail or hike a mountain. Exercise has many benefits but being outside is even better for you. Being outside in the sun allows you to absorb the vitamin D that we don't always get during the fall and winter.

1st Quarter Winners
Congratulations to the students at the following schools:
Lehigh University, Brett Hoffman, $50 Visa Gift Card
University of Bridgeport, Daniel Le, $50 Visa Gift Card
University of Incarnate Heart, Audrie Deleon, Fitbit Charge HR

Become our next winner! Go to www.myfuturehealth.com
The more hearts you earn, the better your chances are to win!
Updated Diabetes Page
As we all know, health statistics are always changing and the amazing world of science is constantly coming out with new medical research which means Future
Health
is continuously updating our information on our topic pages. After a lot of hard work, we are finally done with bringing the information on our Diabetes Learn Page up-to-date.